The 2023 INFINITI QX60 Autograph v. Jaguar F-Pace P250 R-DYNAMIC S Review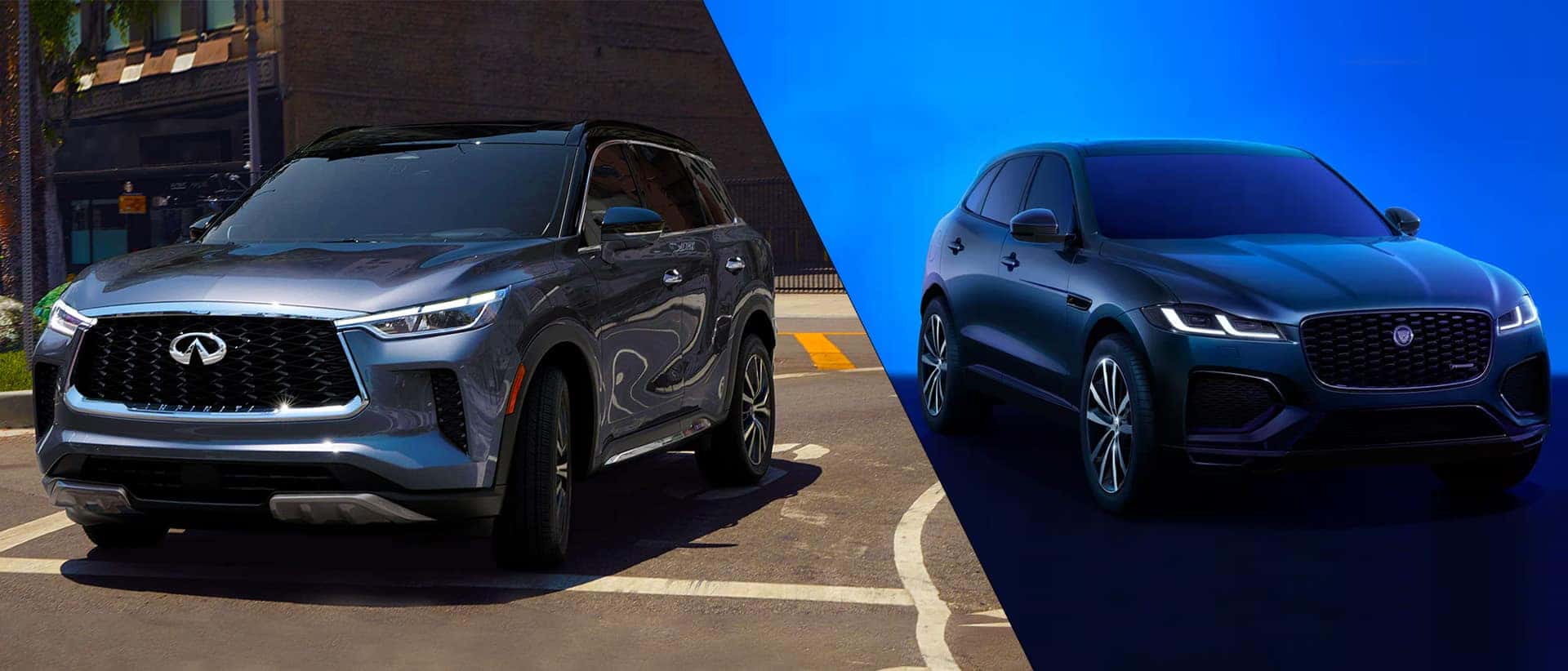 Welcome to our comprehensive review of the 2023 INFINITI QX60 and Jaguar F-Pace! In this article, we will delve into the features, performance, design, and overall experience of these two remarkable SUVs. Our goal is to provide you with the most detailed and informative analysis that will help you make an informed decision when choosing your next luxury vehicle. Vehicle specifications will vary among different trim levels and options, but we took two of the most popular configurations for each model and compared them side by side below.

2023


INFINITI


QX60 AutoGraph

2023 Jaguar
F-Pace
P250 R-DYNAMIC S

Starting MSRP
$62,600.00
$52,400.00
Estimated Lease
$849/Mo
$1,020/mo
Engine
3.5L V6 Gas
2.0L Turbo Inline-4 Gas
Horsepower
295 hp @ 6400 rpm
247 hp @ 5500 rpm
Torque
270 lb-ft @ 4800 rpm
269 lb-ft @ 1300 rpm
Transmission
9-Speed Automatic
8-Speed Automatic
Fuel Efficiency Estimate
21 / 26 mpg combined city/hwy
22 / 27 mpg combined city/hwy
Tire Size
P255/60T/R18
P255/55H/R19
Ground Clearance
6.7 inches
8.4 inches
Overall Length
198.2 inches
186.9 inches
Wheelbase
114.2 inches
113.2 inches
Cargo Space
75.4 ft³
69.1 ft³
Curb Weight
4,457 lbs
4,015 lbs

Performance
Let's start by examining the performance aspects of these vehicles. The 2023 INFINITI QX60 Autograph offers a powerful 3.5-liter V6 engine, producing an impressive 295 horsepower. This engine provides smooth acceleration and ensures a thrilling driving experience. On the other hand, the Jaguar F-Pace is equipped with a range of engine options, including a potent supercharged V6 and a fuel-efficient diesel engine. These options offer a variety of power outputs to suit different driving preferences.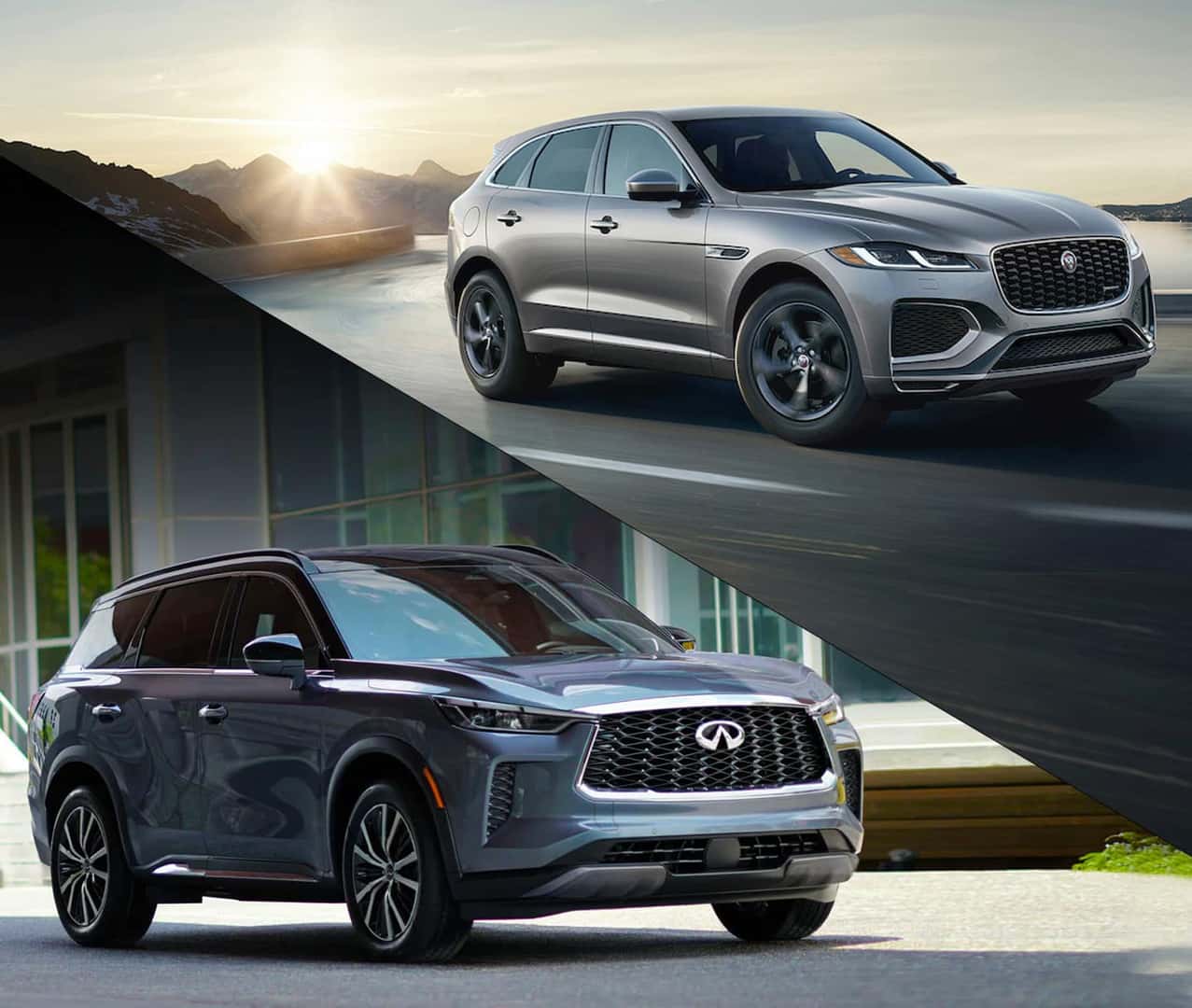 Design and Exterior
When it comes to design, both the INFINITI QX60 and Jaguar F-Pace showcase elegance and sophistication. The QX60 boasts a sleek and refined exterior, featuring bold lines and a distinctive grille that exude confidence. The F-Pace, on the other hand, exhibits a sportier appearance with its aerodynamic contours and aggressive stance. Both vehicles are crafted with attention to detail, reflecting the luxurious aesthetics expected from their respective brands.
Interior and Comfort
Step inside the cabins of these SUVs, and you'll be greeted by opulence and comfort. The 2023 INFINITI QX60 offers a spacious and well-appointed interior, with premium materials adorning every surface. The seating is plush and supportive, ensuring a comfortable ride even on long journeys. The Jaguar F-Pace, known for its craftsmanship, delivers a refined interior with a perfect blend of luxury and sportiness. The ergonomically designed seats provide exceptional comfort, enveloping both the driver and passengers in a world of luxury.

Technology and Features
In terms of technology, the INFINITI QX60 and Jaguar F-Pace offer an array of advanced features that enhance convenience, connectivity, and safety. The QX60 comes equipped with a user-friendly infotainment system, offering seamless smartphone integration, voice recognition, and a suite of driver-assistance features. The F-Pace, on the other hand, has an infotainment system with a responsive touchscreen display, intuitive controls, and a host of driver-assist technologies. Both vehicles prioritize the integration of technology to elevate the driving experience.

Safety and Reliability
Safety is a paramount concern for any luxury SUV buyer, and both the INFINITI QX60 and Jaguar F-Pace excel in this area. The QX60 offers a comprehensive suite of safety features, including forward collision warning, blind-spot monitoring, and lane departure warning, to name just a few. The F-Pace incorporates an equally impressive array of safety technologies, including emergency braking, adaptive cruise control, and a 360-degree camera system. Rest assured, these vehicles prioritize your safety on the road.

Final Verdict
In conclusion, both the 2023 INFINITI QX60 and Jaguar F-Pace are exceptional luxury SUVs that offer remarkable performance, exquisite design, and advanced features. The QX60 provides a refined and comfortable driving experience, while the F-Pace delivers a blend of sportiness and sophistication. Ultimately, your choice will depend on your personal preferences and priorities.
If you are looking for a spacious and luxurious SUV with a focus on comfort and technology, the 2023 INFINITI QX60 is an excellent choice.